Lesley loves pearls and jewellery and has been making pearl and gemstone jewellery for 10 years. In that time she has completed City and Guilds levels 2 and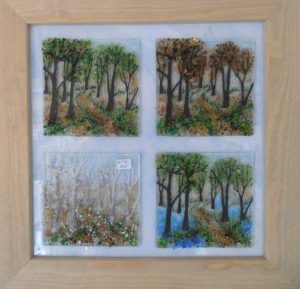 3 in Jewellery Making and Silver Smithing. She discovered glass fusing almost by accident because in Level 3 one of the design briefs was to make an item of jewellery in a non metallic substance and as she also loves dichroic glass jewellery she found a glass fusing course in Bude right down the road from where she lives. She completed NCFE Levels 1 and 2 and bought herself a kiln and her journey took her from pendants to pictures, nature 'painted' in glass. Now when Lesley sees the world around her she wants to rush off and find her glass cutter.
All Lesley's freshwater pearls are sourced directly from China an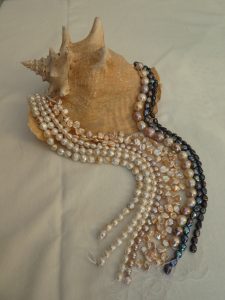 d the gemstones from all over the world. She strings her necklaces in the traditional professional way with silk thread with a knot between each pearl, putting a little clear nail varnish on each knot which prevents the silk from slipping but does not damage it. The knot itself forms a small gap between the pearls and stops them from rubbing up against each other. To secure each end she brings the thread back through the 3 end pearls, knotting between each one and then she puts a small trace of super glue on each of the 3 knots. Silk is a natural fibre and will stretch over time so knot are tied tightly to compensate for this.
You can see some examples of Lesley's work below; please note that these are examples and may not be available in the studio when you visit. If you are interested in a particular piece please do not hesitate to contact Lesley either through our contact page, email her directly here, or through her own website Pearl Parade. Lesley attends many markets and fairs selling her work and is very happy to take commissions.