So I can tell you now about the plans for us taking part in this great event coming up in June.
From the 12th – 14th June Bude Castle and surrounds will be hosting this summer's great Bude Arts and Music Festival (BAAM for short); 3 days of great music, comedy and arts and crafts.  On the 13th and 14th, there will be a craft Fair (alongside the music) on the Castle Grounds.  Along the Wharf which is just below the Castle several of the workshops will be taking part in the weekends activities with various projects you can get involved in.
At Atlantic Glass Studio our very own Marie will be helping you to create a community mosaic on the theme of 'Creatures of the Deep' which is the theme of the 'It's not rubbish' Art show which is also part of the weekend's events.  You will have the opportunity to add your piece to the overall mosaic and know that you have created a great piece of art.  You can take part in this between 10 and 5 on the Saturday and Sunday (13th and 14th).  Just come and find us along the side of the canal and have a go.  We are still talking about what will happen to this piece of art work once completed, watch this space for more news, but there are some great ideas in progress.
Oh and just to say that I got a bit confused on our opening hours in June (and for the rest of the summer), we actually close at 5pm from 1st June to the end of September and are open every day.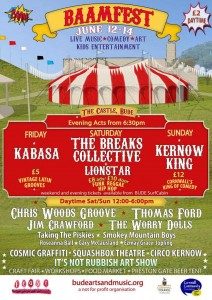 Bude Arts and Music Festival